Inspired by Coco Mademoiselle
Inspired by Coco Mademoiselle
View Product Information
Want it
tomorrow
? Order within
5 hours
,
12 minutes
,
33 seconds
and Choose Royal Mail Tracked 24HR at Checkout.
---
We're sorry we're out of stock, but we can let you know as soon as this product becomes available again.
Enter your details below and we'll email you once this item is back in stock.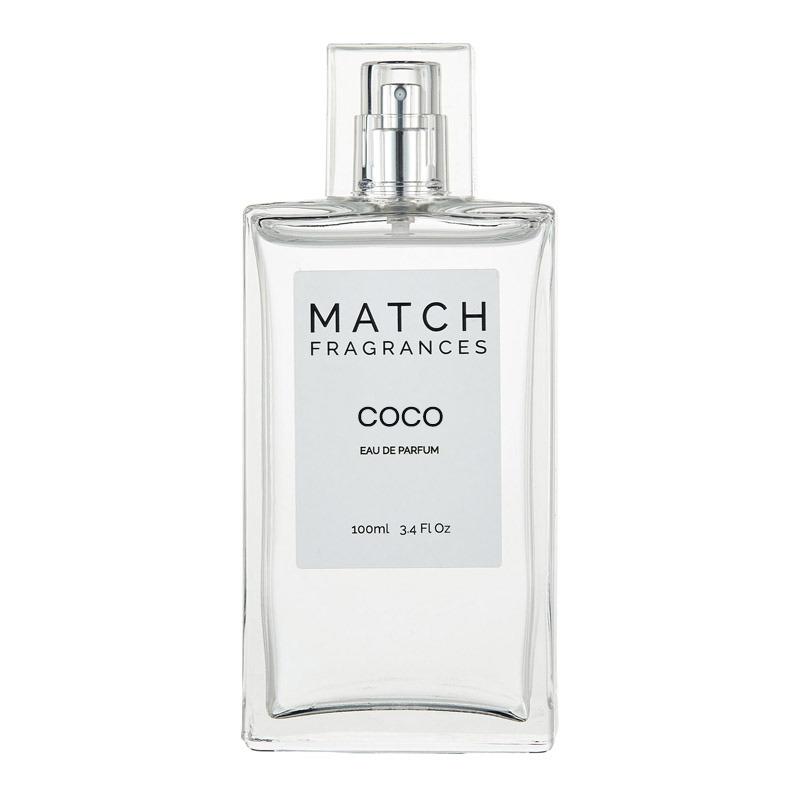 Send this product to a friend
Inspired by Coco Mademoiselle
Stand out from the crowd with Coco, Inspired by Coco Mademoiselle, a scent that oozes sophistication and class. This is a fresh and long-lasting scent, adding elegance to a woman who roams freely and boldly in her cosmopolitan surroundings, and knows exactly what she wants.
Our version contains similar notes to those in Coco Mademoiselle.
Top Notes: Citrus: Orange and Bergamot
Heart Notes: Floral: Rose and Jasmine
Base Notes: Woody: Patchouli and Vetiver
FREE SHIPPING ON ALL ORDERS At Match Fragrances we offer FREE Royal Mail Standard Delivery on orders over £10 (2-3 Working days) in the UK.
You may want to receive your order sooner, so we also offer Royal Mail 24 / 48 Tracked Delivery for an additional cost.
All orders are dispatched the same working day when you place your order before 12pm. For Royal Mail 24 Tracked, we aim to deliver the next working day, however, this may take 1-2 working days. For Royal Mail 48 Tracked we aim to deliver within 2 working days, however, this may take 2-3 working days. Any orders that are placed on Friday after 12pm or over the weekend will be dispatched on Monday (excluding bank holidays) Please note that we are not responsible for late deliveries from Royal Mail.
Scottish Highlands and the Channel Islands may take a little longer to deliver.
We will not be responsible for the delivery of products where shipping information is incorrect. Any changes to shipping information must be emailed to info@matchfragrances.co.uk and received before your order is marked as dispatched.
DELIVERY TIMES
We will email you to confirm your order has been dispatched. Royal Mail will then keep you updated on the status of your delivery by email.
TAKING DELIVERY
If you're not at home at the time of delivery, Royal Mail will attempt to deliver your parcel to your neighbor and leave a card. If they can't deliver to them, they will leave a card and take the item back to the Customer Service Point. You can then either collect it or arrange redelivery (full details will be on the card).
5 Star customer reviews
All our fragrances are Eau De Parfum, mixed with 20% Premium Quality Perfume Oil.
Free Delivery on orders over £10
Order before 2pm for same dispatch
Your loyalty is always Matched with Reward Points
We're so confident that you'll be happy with your fragrance, we offer a No Quibble Returns Policy if for any reason you are dissatisfied.
Buy Now Pay Later with Klarna
Please note the products mentioned throughout our website along with their labelling are a mere guide and in no circumstance should be mistaken for the actual high street brand. Name trademarks and copyrights are properties of their respective manufacturers and/or designers. These versions are not to be confused with the originals and Match Fragrances has no affiliation with the manufacturers/designers.
Love this perfume, couldn't afford the real one but this is a very good alternative
Another great fragrance from Match , absolutely the same as the "real" coco
Smells great and long lasting .will be buying the large bottle soon .
Very happy with this perfume so much more affordable for me.
Really nice perfume smells beautiful, just like the really thing
Omg amazing smells just like the real thing I will be ordering again and it's the perfume I'm wearing for my wedding,super happy thank you.
Ive given it 5 stars although I must confess I dont really know what the original smells like.My Tesco delivery lady arrived last week smelling absolutely gorgeous- Needless to say I had to ask her what perfume she was wearing! - she loves her perfumes and told me it was Match Coco.( my ferret is also called Coco ) 😊
Smells just like the real perfume.
This is perfect. Just like the original and lasts all day and night! I highly recommend these products. I will be ordering more
I just love this- at a very acceptable price. Excellent!
I felt so expensive wearing this luscious perfume ,at a fraction of the price of the original it is a bargain with class.
I'll never buy the original again. Sophisticated and just like the real thing! Love it!
I love it,it is spot on and smells exactly like Coco Madamoiselle...I'm a new fan of match fragrances. Excellent service,delivery and product. Highly recommended.
Thank you it's fantastic just like the real product.
Smells just like it and lasts so much longer, couldn't be happier, will definitely be getting more
I Love this so so much. It smells lovely and had a few compliments. Thank you x
I bought this as a gift for my sisters birthday and she loves it. Smells lovely x
Fast delivery, smells exactly the same and the customer service was fantastic!
The scent is very similar to that of Chanel Coco Mademoiselle. It doesn't last quite as long but is still very good indeed.
lovely, highly recommended!
Leave a review